Can AR reach Generation Z where normal advertising can't?
With an average attention span of 12 seconds amongst Generation Y and a staggering 8 seconds amongst Generation Z, companies are continuously challenged in their storytelling on social media. It has to be short but captivating, quick but meaningful. Can augmented reality come to the rescue?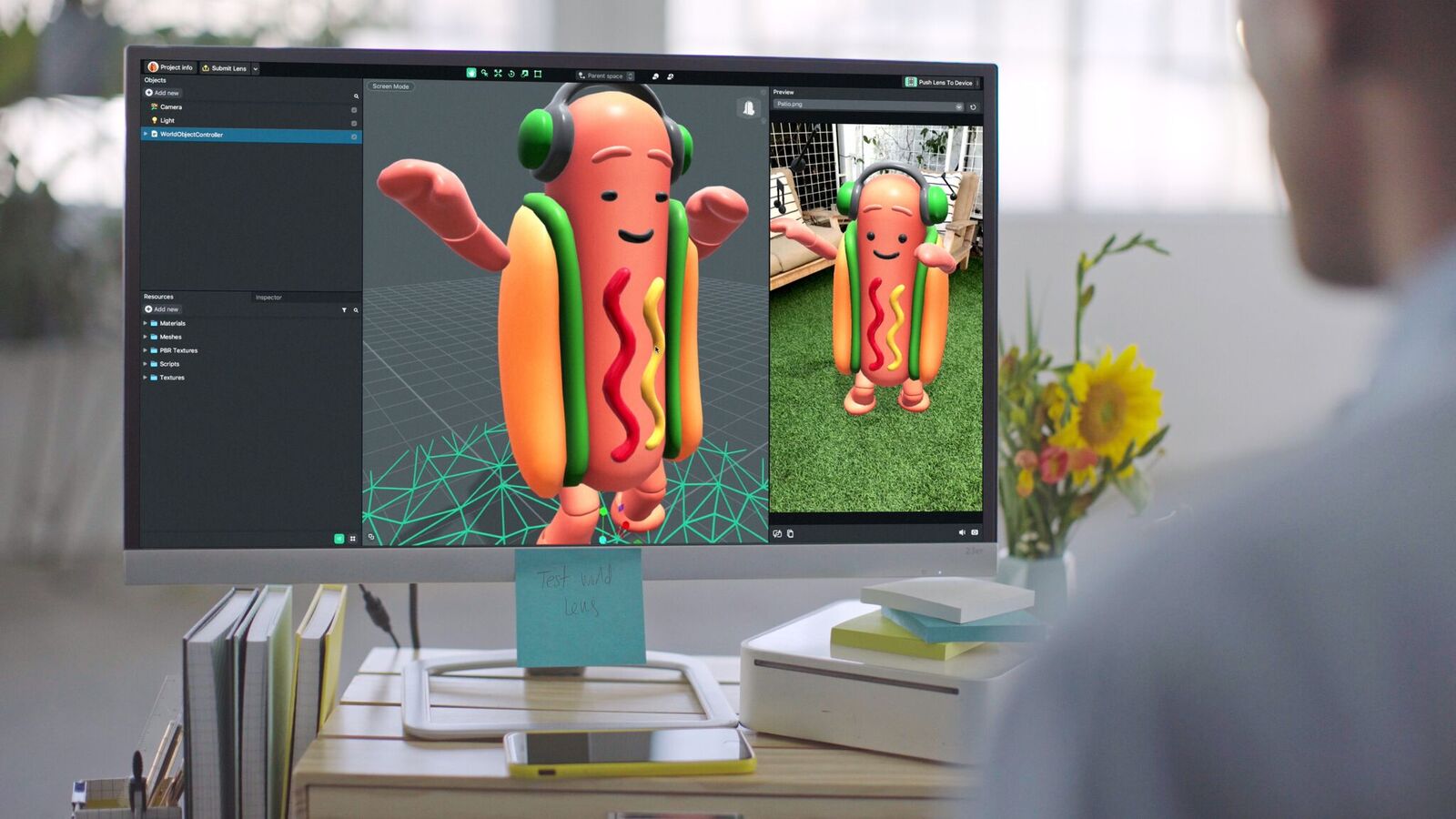 With an average attention span of 12 seconds amongst Generation Y and a staggering 8 seconds amongst Generation Z, companies are continuously challenged in their storytelling on social media. It has to be short but captivating, quick but meaningful. Can augmented reality come to the rescue?
Why augmented reality?
The technology behind AR might have been hard to grasp at first if you're Generation Y and up (I remember the song of the dial-up modem and the internet speed that came with it). But it's different for Generation Z, because they grew up with another view on technology and a much higher standard of what that technology can do for them. In other words: "We merely adopted the tech. They were born in it, molded by it."
That higher standard comes with a higher exposure to new media and therefore a higher resistance to it. They have learned to distinguish businesses that try to push their products down their throats from businesses that can actually add value to their lives. Influencers and vloggers are a good example of how the advertising world adapts to this.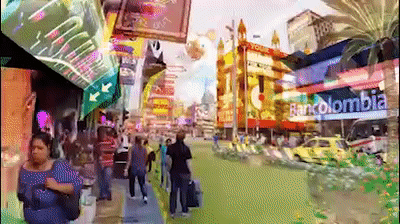 And then there's augmented reality. More immersive than anything you've ever seen on a screen, because it merges the real and the digital world together. Perfect for a generation that's numb to regular advertising.
Why would my brand need it?
Your brand can profit from using AR if you have brand values that overlap with the values of the target groups.
Let's look at Marvel Studios and their many superheroes. Watching comics or movies of those superheroes feels entertaining and empowering, which is why people have been dressing up as superheroes for a long time. What if you could provide that same feeling with much less effort? You would be able to transform into a superhero of your choosing with a single tap on your phone!
But you do not always need overlapping values, because a sense of usefulness, utility or doing good might arouse just as much passion. Pedigree nailed this in their Adoptable Facebook Mask campaign. When you open the lens, a dog filter is applied to your face. You can shake your head to switch to different breeds and nod your head to see dogs of the same breed that are up for adoption.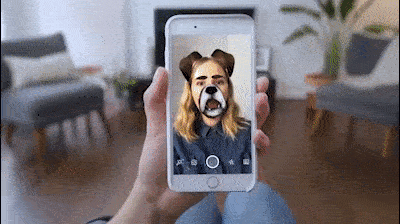 Transmedia storytelling
It's not just about finding that shared value and creating an AR experience for it. Because that experience isn't the story, it's only part of it. Following the common practices in transmedia storytelling, each medium makes it own unique contribution to the unfolding of the story. Find out what that contribution is for your AR experience.
What platforms?
Mobile AR only just passed its infancy. A few successful apps have been released like IKEA Place and Pokémon GO, but most mobile AR experiences still feel a little quirky or awkward. Facebook and Snapchat followed the trend and released their own platforms for developers. They started out as quirky, too. But they quickly leveled up and evolved to be the perfect channels to reach this new generation.
Facebook
Facebook's AR Studio is a typical case of function follows form. You can get a good sense of how AR has just passed its infancy when you use the program for a while. The team behind AR Studio is very dedicated and releases a cool new function with almost every update. Sadly, the stability of the face and plane tracking is nowhere near up to the standards we've seen in Google's AR Core and Apple's AR Kit. Announcements for the most amazing updates yet have been made at F8 this year, like hand and body tracking.
The distribution of Facebook Camera Effects is also a little quirky, as you need a link to open the effect on your phone. Or you can scroll through the hundreds of effects published by others, hoping you eventually find the one you're looking for.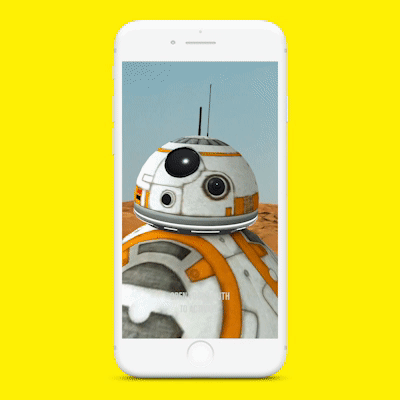 Instagram
Coming soon. We're just as stoked as you are. Instagram filters will also be created in AR Studio, and that's about all we know right now.
Snapchat
Snapchat's Lens Studio has a more stable feel to it, as does the face and plane tracking. When it comes to functions, Lens Studio is behind AR Studio. It does have a lot more templates you can use as a base for your project. Distribution is a lot more user-friendly, as you can open an effect by scanning the Snapcode. Sharing is also made easy, which gets you a greater organic reach.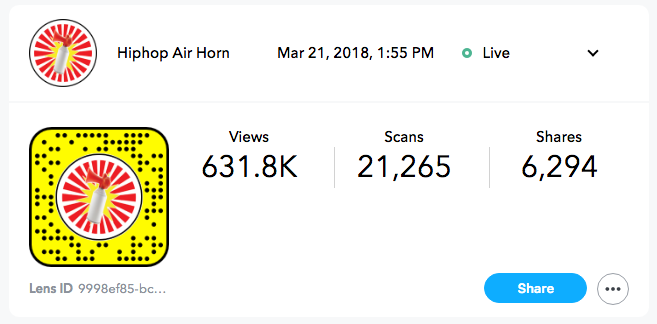 Guidelines
To build the best AR experiences for social media, here are some guidelines to follow.
Short
Create an experience that grabs the attention of your target group and guide them through the rollercoaster ride that is your AR experience. But keep it short (keep that impressive 8-second attention span in mind).
Snackable
Your target group will consume your content whenever they feel like it. Whether they're in college, waiting in line, in an elevator or in the waiting room at the dentist, they need to be able to consume your content. Everywhere.
Shareable
The most important one of the three. Make your content shareable by adding value for its users. Whether it's funny, goofy, pretty or sexy, your users need an incentive to share your experience. Nailing this means a better organic reach, which is exactly what you want. But organic reach or driving the most sales is not why this guideline is the most important, it's the value for your audience that counts.
Don't use AR just to use AR
It might be very appealing to follow the trend and create an AR experience for your brand. But it's important to do it for the right reasons, and not because everyone else is doing it. An AR experience could be the solution for raising your brand awareness. But so could a promotional video. Or an Instagram post. Go for the AR experience when it's the best solution to your specific problem.
Conclusion
Augmented reality might be the perfect way to reach the newer generations, as it's more immersive than any other technology. Mobile AR still is a little unstable, but it's making great progress. Especially AR created for social media is gaining a lot of traction. With platforms like Facebook's AR Studio and Snapchat's Lens Studio, you can create your own AR experiences and share them with a huge user base.