Facebook marketing: 5 insights you can get out of the new Audience Overlap-tool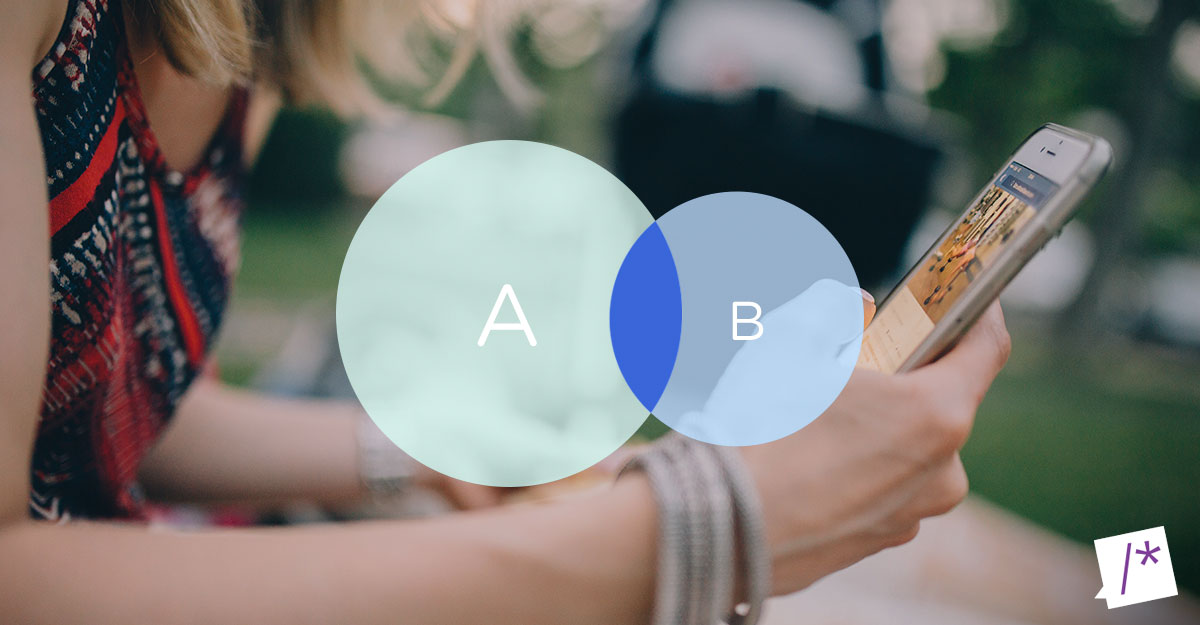 Recently, my heart started beating faster. While I was uploading a new CRM file in Facebook for a customer, I discovered a new feature: Audience Overlap. With this tool you can differentiate target audiences / segments (you name it) and discover their similarities. I didn't have a use case that would benefit from this at first, but I had the feeling this had serious potential. After a few days of trial my enthusiasm hasn't gone down and I've listed my insights in this article.
Audiences
I can already hear the veteran Facebook marketeer say: "Gaining insights for your audiences, don't you already have Facebook Audience Insights for that?". Absolutely, this tool gives you fantastic insights about segments, but it can't answer what percentage of my Facebook likes visited my website in the last 90 days. Audience Overlap answers this question with great panache.
Before I share my insights, I'll quickly guide you through the different Facebook audience types.
Saved Audiences
There isn't a better tool than Facebook to reach married mothers between the 30 and 40 years old, interested in football, right? When an advertiser wants to aim at a target audience he can save this as "saved audiences". A saved audience is a segment that an advertiser can create for the purpose of advertising. When you often want to reach the same target audience in various ads, this functionality is very handy and time efficient. You can create audiences based on location (country, province, city), gender, age, interests (like football), behaviour (like relationship status) and connections to the advertiser's page (like the Facebook likes of brand X).
Custom Audiences
When you upload CRM lists, or segment visitors through the Website Custom Audience (WCA) pixel as an advertiser, Facebook calls this Custom Audience. Besides CRM and website traffic it's also possible to make segments of App usage through an SDK.
Look-a-like Audiences
Look-a-like audiences are very useful for searching new customers, prospecting. You can let Facebook select the most similar 1 to 10 percent from a custom audience by looking at socio-demos, interests and behaviour.
To gain insights through the Audience Overlap tool, an audience needs to count at least 1000. This is to protect Facebook's users' privacy. You can combine endlessly with Audience Overlap. For example, you can compare saved audiences with look-a-like audiences, look-a-like audiences with custom audiences and custom audiences with saved audiences.
Every comparison output is always a percentage. This percentage shows how much percent of audience A overlaps with audience B, and vice versa. While many combinations only show brand-specific insights, there are many other common examples that everyone can benefit from. I'll share five with you.
1. The value of your Facebook likes
What's the ROI of social media and community building? Many marketeers and scientists have clamped onto this question in the last couple of years. We're getting closer to the answer with Audience Overlap. Of course we can measure our ads and read the Google Analytics results to see if someone came from Facebook. However, this is often cookie-based and not cross-device. Knowing Facebook has a very high mobile propagation, it's of high interest to see how like behaviour converts to website visits on desktop.
We segment website traffic through the WCA pixel for this customer. These custom audiences are cross-device since Facebook uses profiles instead of cookies. From the following analysis we can conclude that 37 percent of all page likes of this brand visited the website in the last 90 days. 9 percent even did this in the past 7 days. Obviously, you can make this more tangible by taking orders, shopping baskets and/or other on-site segments in mind.
2. A guide for determining retargeting strategies
Enabling or disabling certain segments in a retargeting campaign could make or break the success. Audience Overlap can support you with this. The following analysis is made for a customer who's product is a subscription, and the customer panel (for invoices, etc.) is segmented through the WCA pixel. In these situations a decision is made to exclude visitors from their panels since they're already members.
This analysis shows that 28 percent of the converted product A visitors also visited the customer panel in the last 30 days. These are existing customers that upgrade their subscription package. Through this insight we didn't exclude the segment. Besides, we notice that 52 percent of the converting product A visitors also visited product B's product page. In this case it could be profitable to show product B in the retargeting campaign of product A.
3. How successful is your cross-sell strategy?
When you enter the market with a new product as an established brand, existing customers often are important prospects for this new product. They're already familiar with the brand, and it's feasible to offer them package or synergy benefits.
These prospects are often reached through phone or email because these credentials are already present. The success of these contact attempts will be measured by sales, and in the case of email campaigns onsite metrics can be used. Through Audience Overlap's CRM files you can see the percentage of matches with your online funnel.
We could conclude 10 percent of the visitors that have put together a certain package, already owns product of this brand. Measuring irrespectively of what source they're coming from is Audience Overlap's great benefit. If it's through search, direct traffic, display or affiliates, Audience Overlap is able to match the visitor to the CRM file and determine the cross-sell's success. Despite not clicking the newsletter or following through after contacting the callcenter, the interest could be generated anyway.
4. How accurate is my Facebook targeting?
The Small Business Owners segment (SMBO) might be one of the most used segments within Facebook targeting. I've always been partly skeptic about this segment, which holds an immense amount of 560,000 users. There are rumours that page admins are in this segment by default. That seems rather premature by me.
With Audience Overlap we were able to save the SMBO segment as a 'Saved Audience' and compare it to visitors of the business section of a website of one of our customers. From analysis it appears only 18 percent of visitors within the business section of the website is recognised as SMBO. Considering the size of the segment (560,000 users) I think this is a dreadfully low percentage. Even more so when you consider there's a Facebook campaign running on this segment, and its traffic is already included in the 18 percent!
5. What's the greatest affinity of my customer base?
Imagine: as a brand you're considering lending a sponsor contract to Soccer Club A, Soccer Club B or Soccer Club C, but you don't know which of these clubs matches your customers best. Audience Overlap can help you with this. Create three saved audiences with their interest set respectively to Soccer Club A, Soccer Club B and Soccer Club C and observe the overlap with the CRM file.
Based on the analysis below we can conclude that Soccer Club B has the most common ground with the existing customers. When the brand wants to avoid disagreements with their customers, Soccer Club B would be the most safe choice. A similar analysis can be used for media choices, partnerships, etc.
From insights to action?
Audience Overlap is a new functionality within Facebook that can give you valuable insights when you establish all basics like CRM integrations and Website Custom Audiences. Not just in your Facebook ads but in e-commerce as a whole.
In this article I shared five of my first insights that became apparent through this tool. Now we have to wait for Facebook to enable access to overlapping parts of segments specifically. That would make our Facebook ads even more relevant!
You can find the The Audience Overlap tool in the Ads Manager next to Audiences under the 'tools' button. Good luck with your first analyses.