Making the most of Facebook's video potential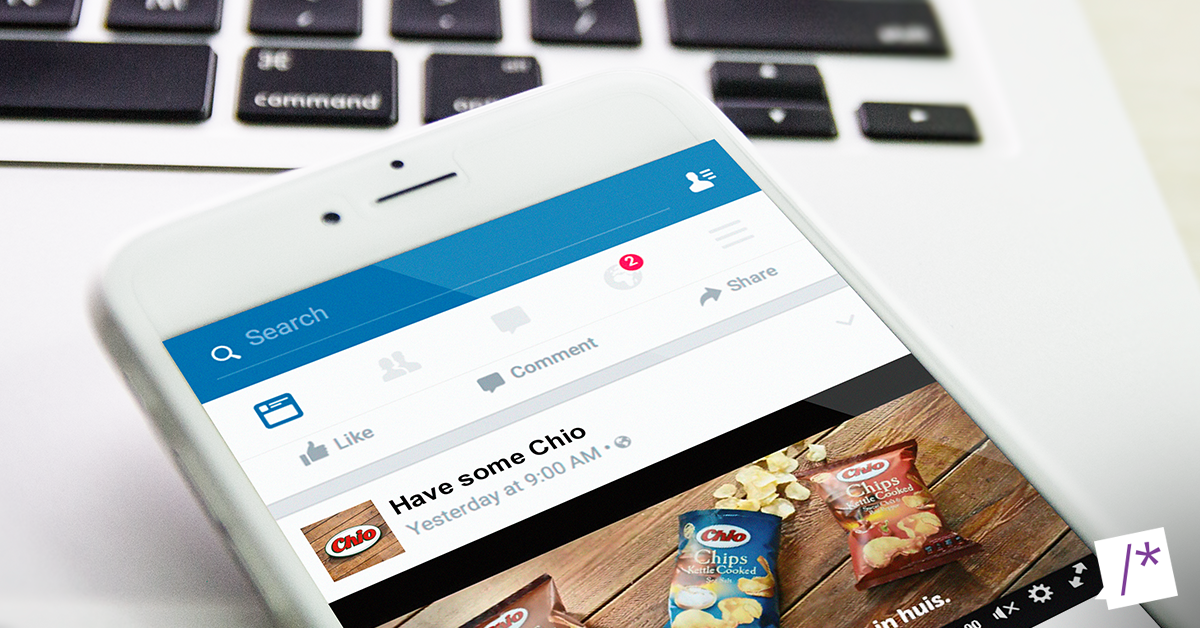 New social media like Instagram, WhatsApp, Snapchat and Pinterest are on the rise, making marketeers wonder if Facebook still deserves its spot in their marketing mix. If you are one of them, rest assured that the power of Facebook is still quite unrivalled. Sure, Facebook is no longer the 'cool kid on the block', and many youngsters have moved on to hipper pastures. But the social network still has plenty to offer big brands and small businesses alike. Especially if they know how to effectively use all of Facebook's numerous new video features.
Why is video so essential? First of all, Facebook users are consuming over 100 million hours of video each day, and this number continues to grow. Which is why Facebook predicts that in 2 years, their newsfeed will consist almost entirely of videos. The network is even experimenting with a video-only newsfeed for mobile, anticipating the ever increasing importance of video in social content marketing.
If you want to make the most of these developments (who doesn't!), these are just the tips for you:
Keep it short
Research by Spike (2015) shows that 90% of Facebook's most shared videos averaged a length of 1 minute. Video's from Tasty, Buzzfeed's successful video content format, were no longer than a very snackable 24 seconds. The Microsoft DX video below is a short fragment from the original, provided with a title and call to action.
Check how many users turn on the sound
Unless you're 13 or suffering from underdeveloped social skills, you make sure not to disturb others with loud music or video sounds when in a public place. Which is why many Facebook users watch videos without sound. Lucky for you, Facebook added the 'Sound on' vs. 'Sound off' metric to Facebook Insights in February, which is a great way to check if your users are actually listening to your videos.
Add subtitles
If a large portion of your users turn off sounds, adding subtitles might be more valuable than a voice over. You can do this by uploading .srt files along with your video. The only downside of this method is that .srt files only work on desktop, so a better option is to hardcode your subtitles into your video.
Consider using Facebook Live
One of Facebook newest features is Facebook Live. Like Periscope, it offers the possibility to do a live broadcast (hence the name). Metrics are limited at this point, but you can discover the number of (unique) viewers. In a recent blog post, Facebook announced that Live video will get priority in news feeds, making it even more interesting to explore the possibilities.
Experiment with Canvas
Facebook Canvas gives you the opportunity to build a unique experience, combining text, images, carousels, product feeds and of course, videos and animations. One of the biggest features of Canvas is that it will load videos almost 10 times faster than other mobile apps, decreasing the chances of someone losing interest due to long loading times. A great example of the possibilities of Facebook Canvas is this video from the Dutch Hartstichting (heart foundation):
Go square
This is one of those 'why didn't we think of this before' tips, but here goes: a recent study by Buzzfeed revealed that 3 in 4 of the most shared videos are square. Why? Because people don't like tipping their phone to watch a video in full screen. A big plus of going square is that your videos can be used for Instagram - if you keep 'm shorter than 15 seconds, of course. Take this video by Chio for example:
*"Full moon? We're mostly looking at the Space Raiders. What about you?"*
Add a call to action
Just like any piece of quality content, a good call to action is half the battle. To add a call to action to your Facebook video, go to 'Edit Video' and click the 'Call to Action' tab. Here you can select a CTA button to add to the end of your video. You can choose from the following:
Shop now
Book now
Learn more
Sign up
Download
Watch more
Just add UTM tagging to your URL, and the effect of your CTA will show up in Google Analytics.
And last, but definitely not least:
Take audience building to the next level
Facebook recently launched a new Audience option: Engagement Audiences. With this option, you can create a custom audience, based on the amount of time someone spent watching your video. These are the options available:
People who viewed at least 3 seconds of your video
People who viewed at least 10 seconds of your video
People who viewed at least 25% of your video
People who viewed at least 50% of your video
People who viewed at least 75% of your video
People who viewed at least 95% of your video
You can also specify the time since their last engagement (up to 180 days). The difference with the old Video View Custom Audiences is that you can select several videos, instead of just one. Very useful if you're running a campaign. By dividing your video audience by engagement rate, you take the first step towards providing each custom audience with even more relevant video content. For instance by excluding people who already viewed at least 75% of your latest video from your next ad with the same video. Or by retargeting them towards sales, since they're already highly engaged.
Besides that, using Engagement Audiences is a great strategy to convert more of your audience into leads, or to increase traffic to your own domain, leading your viewers to additional information about the campaign or the subject of your video.
A Facebook video view might very well be the first contact in the entire buyer's cycle. If you look at it this way, it makes sense to develop a more integrated strategy and a more dynamic approach to content creation. Hopefully, this blog post convinced you that Facebook video is very much worth considering!
Bonus tip: Time is precious, so you might want to mention the video's duration in the video post. People are more likely to watch the video if they know the length.
This post was previously published in Dutch on Emerce.